Written/Posted by Laurence Diehl
[download]
- Play count: 3564
Size: 2,590kb, uploaded 3/9/2007 4:51:39 PM
Genre: Fiddle/Celtic/Irish / Playing Style: Bluegrass (Scruggs)
© Laurence Diehl 2007
I named this for the city of Seattle, which I have called home for some time now. This is really the first tune I wrote that amounted to anything. Roger Ferguson on the fiddle.
---
9 comments on "The Emerald City"

joebok Says:
Friday, March 9, 2007 @5:16:55 PM
Wow, Laurence, that is wonderful! And you wrote it too! Wow!

Bongshang Says:
Saturday, March 10, 2007 @8:20:56 AM
Very very nice tune. Clean as a whistle. Lovely sounding banjo

androo Says:
Saturday, March 10, 2007 @8:44:08 PM
That's a great composition! And the playing is mighty tasty! Thanks for sharing!

banjoski Says:
Sunday, March 11, 2007 @3:55:22 AM
Great tune! Keep writing them.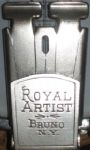 RB-1 Says:
Thursday, April 19, 2007 @3:30:04 PM
Oh this brings back memories of hearing you and Bob playing banjo/fiddle long ago at Bob's place at the Amsterdam canals....
I think it's excellent, wish I'd thought of these nice melodic structures... :-)
Bruno

AcousticEclecticJamBand Says:
Tuesday, May 22, 2007 @3:12:25 PM
very nice original tune...just sounds like the great northwest...
mc

perfectsleeper Says:
Friday, November 30, 2007 @7:14:52 PM
That sounds amazing and real authentic. I love that tune very much. Great!!!

Volker.
Greg Connor Says:
Wednesday, June 11, 2008 @10:28:23 AM
This tune just catches you and holds on! Beautiful.

BrittDLD1 Says:
Friday, October 24, 2008 @8:21:45 PM
Very catchy tune. I'll be humming it for days, now...
You must sign into your myHangout account before you can post comments.