Posted by Tim in the garden
[download]
- Play count: 302
Size: 1,532kb, uploaded 12/30/2011 12:57:45 AM
Genre: Old Time / Playing Style: Clawhammer and Old-Time
Played on my new South Australian made White Swallow fretless banjo, with a brass fingeroard. A great old tune I never get tired of playing. Steel strings in A. Original set up, before brass tone ring and maple bridge and remo head.
---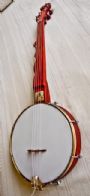 sport Says:
Friday, June 1, 2012 @12:23:03 AM
Thanks for the post- I definitely like the steel string sound. Post a picture of it when you can.
I am just finishing the build of a fretless out of paduka wood. I have nylon strings on it other than the 4rth because it has wooden peg tuners. Once I put planetary gears on it I am going steel. Fretless is wonderful
You must sign into your myHangout account before you can post comments.