Posted by Banjo23055, written by John Philip Sousa
[download]
- Play count: 1842
Size: 6,845kb, uploaded 2/24/2007 11:01:39 PM
Genre: Unknown/None Chosen / Playing Style: Bluegrass (Scruggs)
This is my first attempt at this. It is a home recording in front of an old high impedence Sure mic on a table. I did a rhythm track on a Yamaha keyboard. The drummer is just getting used to bluegrass - so he did not exactly stop on time! It is not the best quality, but I wanted to give it a shot. Please check out my blogs - particularly the one on my philosophy of picking. Thanks for listening.
---
4 comments on "Stars & Stripes Forever"

mainejohn Says:
Sunday, March 11, 2007 @7:44:36 PM
Nice pickin'..great synchopation! Normally a 4 string tune...you make it work well on the 5 string.

acrummette Says:
Wednesday, March 14, 2007 @5:45:01 AM
For your first recording on this site, it is good. I love to hear your banjo playing. Thanks for sharing your music with us.!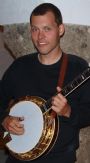 Violanjo Says:
Tuesday, July 22, 2008 @11:54:18 AM
I like your single string stuff.
Cheers
Manuel

frailin Says:
Monday, August 4, 2008 @4:31:08 PM
What fun! Well done!!
You must sign into your myHangout account before you can post comments.