Posted by tommac
[download]
- Play count: 1022
Size: 1,541kb, uploaded 2/20/2007 3:34:47 PM
Genre: Unknown/None Chosen / Playing Style: Clawhammer and Old-Time
A little ragged but what do you want before my second cup of coffee. Always loved this tune and it's great fun to play in this tuning (EBEBE). Enjoy!
---
4 comments on "Shaving a dead man"

rinemb Says:
Wednesday, February 21, 2007 @9:43:20 AM
Great playing-how did you do that! This is a tune we have been considering. Brad

tommac Says:
Wednesday, February 21, 2007 @1:42:47 PM
Aren't those open tunings great. Everything is below the fifth fret. A little drop thumbing, some quick pull offs and a few bending of the notes. It's a great tuning to just "go with". If I get a chance in the near future I will try and write out the tab for it. Not sure how to post that though.

BanjoBillyBoy Says:
Wednesday, February 21, 2007 @5:07:02 PM
Great job on a wonderful tune, the best thing about shaving a dead man is that he doesn't complain if you nick him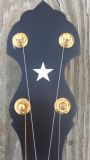 RWJonesy Says:
Tuesday, November 4, 2008 @2:38:59 PM
Love the way you played this tune Tom !!!
You must sign into your myHangout account before you can post comments.