Posted by oldwoodchuckb
- Play count: 964
Size: 1,253kb, uploaded 3/30/2011 11:10:58 PM
Genre: Old Time / Playing Style: Clawhammer and Old-Time
And Old Tune played on a Gold Tone MM 150
---
6 comments on "Angeline The Baker"

Chadbanjo Says:
Friday, April 1, 2011 @1:42:57 PM
Like it better with out the sock. Has more of a natural in the woods feeling, thats the best I can put it in words. You should post more recordings.

JanetB Says:
Friday, August 5, 2011 @12:43:20 PM
How can you say you don't like your recordings and that you "quit in disgust?" (8/4/11, today you wrote this in the Discussion Forum) This is great CH!
hoverflytheo Says:
Thursday, June 21, 2012 @4:11:41 PM
I like the sockless sound, but maybe that's because I don't stuff my own banjos. Perhaps if there was a fiddle too you wouldn't want as much sustain.

banjoike Says:
Thursday, June 21, 2012 @8:40:52 PM
Nice sound. Flows so nice.

JMalmsteen Says:
Monday, July 30, 2012 @5:01:00 PM
This is really nice.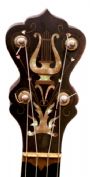 oldwoodchuckb Says:
Wednesday, July 17, 2013 @1:27:33 PM
hoverflytheo
Been slow to answer, but I do indeed play mostly with fiddlers, and prefer to reduce sustain to the absolute minimum.
You must sign into your myHangout account before you can post comments.