Posted by salvatone, written by Mel Torme, Bob Wells
[download]
- Play count: 707
Size: 1,620kb, uploaded 12/16/2010 10:24:55 AM
Genre: Unknown/None Chosen / Playing Style: Unknown/None Chosen
In July, 1945 Mel Torme and Bob Wells wrote the Christmas Song, sometimes know as Chestnuts Roasting on an Open Fire, as an antidote to the sweltering heat on a Southern California afternoon. It took them about 45 minutes. Nat King Cole made it a hit, recording it four times. Since then, it has been recorded over and over by such diverse artists as Frank Sinatra, Christina Aguilera, Aretha Franklin, Babyface, Chicago, Big Bird and Bob Dylan.
---
4 comments on "The Christmas Song"

John Kuhn Says:
Thursday, December 16, 2010 @11:04:08 AM
Very enjoyable piece to keep playin over and over. Seems to say alittle something different each time! Great arr.!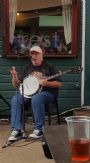 joemac Says:
Thursday, December 16, 2010 @10:46:10 PM
superb Sal.........

Rick Woods Says:
Friday, December 17, 2010 @2:57:21 AM
Played very gracefully. Superb job Sal!

JanetB Says:
Thursday, December 22, 2011 @8:43:37 PM
A beautiful song played beautifully. It makes me feel nostalgic.
You must sign into your myHangout account before you can post comments.