Posted by banjomikey
[download]
- Play count: 2089
Size: 966kb, uploaded 2/1/2007 2:36:45 AM
Genre: Unknown/None Chosen / Playing Style: Bluegrass (Scruggs)
After some coaxing from one of my roommates, I finally got around to taking a crack at this tune. I had always messed with the intro, but never really had much interest in learning the song. This recording was done on the 3rd day of messing with this song. This is the first arrangement that I did not use any tab for, and am actually kinda satisfied with! A break through! It's just a short cut from a warm up at the beginning of a practice session. Wear yur Billy Bob teeth!
---

Rick Woods Says:
Thursday, February 1, 2007 @11:33:51 AM
Very good Mike! No tab! Great! I wish I could say that as I am a slave to tab. Keep up the good work.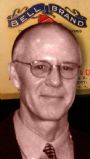 bellcr8v Says:
Thursday, February 1, 2007 @3:30:30 PM
Well done Mike. Enjoyed it.
You must sign into your myHangout account before you can post comments.