Posted by Bruce Miner
[download]
- Play count: 1938
Size: 2,740kb, uploaded 11/6/2010 3:50:10 PM
Genre: Jazz / Playing Style: 4-String (Tenor/Plectrum)
Bruce Miner - Plectrum Banjo
---
5 comments on "Four Leaf Clover / Washington & Lee Swing - Medley"

LNEU Says:
Thursday, November 11, 2010 @3:52:53 PM
Another great song, Bruce! Your playing amazes me.

David M Says:
Friday, January 28, 2011 @7:13:06 AM
I agree LNEU, brilliant player.

Be hard pushed to find better on the BHO, really fluid and full of pro touches from the first note to the last.

mainejohn Says:
Saturday, February 19, 2011 @4:24:02 PM
Excuse me while I burn my plectrum!

rudykizuty Says:
Sunday, February 20, 2011 @5:10:09 AM
Yeah, I know John. Makes me want to put it tight into the fireplace. Awesome stuff.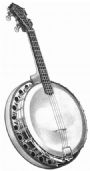 wuzapicker Says:
Monday, August 6, 2012 @9:03:48 AM
Oh yeah! Well played! I love it, man. Gets the fluids pumping.

Thanks for posting!
You must sign into your myHangout account before you can post comments.