Posted by scox1957
[download]
- Play count: 1819
Size: 1,550kb, uploaded 1/29/2007 9:19:08 PM
Genre: Bluegrass / Playing Style: Bluegrass (Scruggs)
Here is a quick scratch recording on my beater banjo with a FQMS wood tone ring. Please forgive the klinkers.
---
6 comments on "I Saw The Light"

Unplugged Says:
Tuesday, March 6, 2007 @11:33:25 AM
Fun up-the-neck stuff. Real nice listening. Thanks.

Nelson Says:
Wednesday, May 2, 2007 @11:25:30 AM
Very nice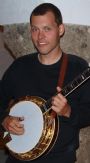 Violanjo Says:
Wednesday, January 2, 2008 @4:21:27 PM
I like your version. I play it very similar.

scox1957 Says:
Thursday, January 3, 2008 @8:38:39 AM
Violanjo,

Thank you, I only wish I could play as well as you. You have some very inventive music!

Steve

ksblgrasr Says:
Tuesday, July 1, 2008 @8:36:03 AM
Very Cool. Great sounding banjo, too.
BB

rickhayes Says:
Friday, December 19, 2014 @8:06:41 AM
Very nice version and fine playing.
You must sign into your myHangout account before you can post comments.