Posted by banana
[download]
- Play count: 430
Size: 2,631kb, uploaded 1/24/2007 8:07:39 PM
Genre: Unknown/None Chosen / Playing Style: Unknown/None Chosen
There's lots of versions of this tune. This is a minor one (at least in key signature). The 4th string is tuned down to C. Played on the '29 Granada. Paul Knight on bass.
---
3 comments on "Paddy On The Turnpike"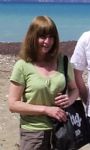 u k sandra Says:
Thursday, January 25, 2007 @8:57:49 AM
I love it. Did you learn it from a tab or from ear?. If you learnt it from tab, where did you get it?. I`ve been trying to learn this for the last few months but the version I`m learning is nowhere as nice as this one. It`s lovely.

banana Says:
Thursday, January 25, 2007 @11:57:52 AM
Thanks so much Sandra. I've heard many versions of this song and this is my arrangement so I've just worked it out 'by ear'. There's a software program from Roni music called The Amazing Slow Downer that can help folks a lot in training themselves to learn by ear..

Don Borchelt Says:
Saturday, February 10, 2007 @9:40:26 PM
Nicely done. Very nice arrangement, very lyrical. The banjo as banjo.
You must sign into your myHangout account before you can post comments.