Posted by Banjophobic, written by Alan Conrad
[download]
- Play count: 3402
Size: 2,719kb, uploaded 7/28/2010 7:49:30 PM
Genre: Bluegrass / Playing Style: Bluegrass (Scruggs)
An Original written by guitarist Alan Conran, from the New Rain Check CD "Folly Time". This is an instrumental written for his daughter Wendy, Yours truly on Reso and Banjo.
---

ronhan Says:
Thursday, July 29, 2010 @4:11:23 AM
Hey John, nice tune - great pickin'. :) Ron

ELWOOD Says:
Thursday, July 29, 2010 @8:04:14 AM
I love Original music, This is great sounding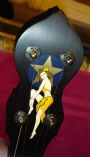 Trisha S Says:
Tuesday, April 12, 2011 @7:46:58 PM
Impressive John. Both of your instruments played with finesse. Professionally recorded and tracked. Add this to my playlist and enjoy a sunny day. Thanks.
picKen Says:
Saturday, July 30, 2011 @9:13:35 AM
Sorry I missed this one. Beautiful tune and top shelf picking. You are an inspiration John!

Tam_Zeb Says:
Friday, August 12, 2011 @11:28:13 AM
Great tune great pickin John
You must sign into your myHangout account before you can post comments.