Posted by raisedhead, written by George Harrison
- Play count: 351
Size: 6,014kb, uploaded 7/4/2010 8:33:06 AM
Genre: Popular / Playing Style: Other
First appearing on Sgt. Peppers album, this song featured all Indian musicians playing traditional Indian instruments. The idea to do this as an instrumental came to me one day while bowing my banjo. The sound reminded me of the Dilruba used to state the opening phrase on the original recording. I played everything except the tablas and percussion. The bowed banjo is doubled by the violin and bass in certain sections. The banjo is my Chuck Lee Chautauqua.
---
3 comments on "Within You Without You by George Harrison"

ELWOOD Says:
Sunday, July 4, 2010 @3:11:49 PM
Yup just too sweet, Creative move that honors its origins

HolyGrass Says:
Sunday, July 4, 2010 @6:16:13 PM
Wow!!! You have some serious skills!! That was amazing. George Harrison has been one of my favorite musicians for a long, long time.

For a while, I lived in a Hare Krishna temple and an older devotee taught me this song in a beautiful, sitar-like tuning on the guitar. Absolutely incredible!!

I love, love, LOVE the fiddle harmony and the bass was a very nice touch, as well.
I'm blown away, really.

I play tabla, but definitely NOT like that! haha.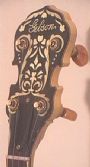 Bellavoce Says:
Sunday, July 4, 2010 @10:29:11 PM
Wondered what you've been up to lately, Bob, so very cool - thanks...
You must sign into your myHangout account before you can post comments.