Posted by Adam Kiesling
[download]
- Play count: 1504
Size: 2,118kb, uploaded 5/23/2010 2:50:37 PM
Genre: Old Time / Playing Style: Clawhammer and Old-Time
From Melvin Wine. I'm on G modal banjo and my friend Meghan Dudle on fiddle.
---
6 comments on "Hannah At The Springhouse"

BRUNO25 Says:
Monday, October 4, 2010 @12:14:41 PM
I thought had I had commented on this tune before? I guess not.

This is such a killer tune. Your banjo playing is just awesome!

Rock on, Dude!

Adam Kiesling Says:
Tuesday, October 5, 2010 @6:44:11 PM
Hey Bruno--thanks for the kind words! It's always nice to play with a great fiddler.....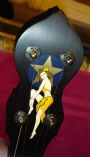 Trisha S Says:
Friday, November 5, 2010 @7:41:06 PM
So that's it... all I have to do if find myself a fine fiddler, and stay close and learn the tunes. Hanna At The Springhouse I LOVE it! Thanks ~ T

strokestyle Says:
Wednesday, December 15, 2010 @1:57:59 PM
Nice fiddling and banjo-ing!

john fincher Says:
Wednesday, December 15, 2010 @11:22:54 PM
Very nice indeed. The two of you play so well together.

JanetB Says:
Thursday, November 1, 2012 @5:36:02 AM
Couldn't get any better!
You must sign into your myHangout account before you can post comments.