Posted by Tom Berghan
[download]
- Play count: 3593
Size: 5,738kb, uploaded 2/15/2010 11:04:29 PM
Genre: Old Time / Playing Style: Clawhammer and Old-Time
Tom Berghan, Melodic Clawhammer, Double-C, Chuck Lee Vintage Ovilla, my own arrangement. I have uploaded a PDF of the tablature. LINK: http://www.banjohangout.org/tab/browse.asp?m=bymember&v=40254
---
9 comments on "Belle of Lexington"

strokestyle Says:
Saturday, February 20, 2010 @10:01:53 AM
Tom, can't get enough...please keep posting your tunes!

Don Borchelt Says:
Saturday, April 3, 2010 @5:01:56 AM
Such delicate notes, who would have thought the banjo could sound so graceful and elegant. A truly mesmerizing performance, it makes one stop and wonder.

BrittDLD1 Says:
Saturday, April 3, 2010 @7:45:43 AM
Superb!

(And to think that you once asked me about MY approach to clawhammer.
You've far surpassed anything I do. I'm in awe.)
Frailblazer Says:
Tuesday, April 13, 2010 @9:38:03 AM
I love this one Tom! As others have said, it has a gentle, elegant quality to it that is uncommon for CH.

jimh269b Says:
Monday, June 7, 2010 @5:18:05 PM
now don and ed knows,great job tom buddy

Tronik808 Says:
Thursday, October 14, 2010 @6:56:12 AM
Loving all your videos thanks for sharing with us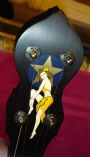 Trisha S Says:
Thursday, August 4, 2011 @7:48:16 PM
This is magical music Tom. Thank you.
Laurence Diehl Says:
Thursday, September 6, 2012 @10:38:56 AM
This is amazing stuff! Beautiful tone and - sorry, but I have to use the word - "classical" precision to your playing! Makes me feel like I play the banjo with a hatchet...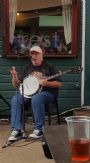 joemac Says:
Friday, September 7, 2012 @12:45:37 AM
What a beautiful tune and a great start to my day, thank you so much.
You must sign into your myHangout account before you can post comments.