Posted by FretlessinTexas
[download]
- Play count: 332
Size: 2,088kb, uploaded 1/20/2010 5:56:05 AM
Genre: Old Time / Playing Style: Clawhammer and Old-Time
Recorded Jan. 15, 2010 at the Firefire Coffee House in Fort Wayne, Ind. Gilbert Sewell on fiddle; Matthew Katinsky on guitar and I'm playing my Jason Burns banjo. Another Kentucky fiddle tune in the key of D.
---
3 comments on "Briarpicker Brown"

dannnjo Says:
Thursday, January 21, 2010 @7:22:27 AM
love this song, have u ever heard Uncle Dave Dougherty play this?
It is worth checking out
Dan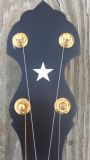 RWJonesy Says:
Thursday, January 21, 2010 @12:33:54 PM
*** Your so talented and fortunate Dean. I wish I had a fiddler that was readily available for pickin' tunes. Nice job once again !

dannnjo Says:
Saturday, February 12, 2011 @6:05:17 PM
Dean, uncle dave dougherty plays this on D VD from RFD channell Jerusalemalem Ridge country store on their 2010 chridtman album. His playing is a monument to the banjo. wish there was a way for u to listen to him
You must sign into your myHangout account before you can post comments.