Posted by FretlessinTexas
[download]
- Play count: 671
Size: 2,633kb, uploaded 1/17/2010 9:57:57 AM
Genre: Old Time / Playing Style: Clawhammer and Old-Time
The Dogtrotters recently played the Firefly Cofee House in Fort Wayne, Ind. Here we kickoff with the tune called "A Bottle of Wine and a Ginger Cake." Afterward, fiddle player Gilbert Sewell of Pikeville, Tenn. talks about Blaine Smith. I'm playing this G tune on a Fairbanks No. 7 Whyte Laydie, although the recording does not give it justice.
---
3 comments on "A Bottle of Wine and a Ginger Cake"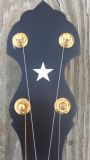 RWJonesy Says:
Sunday, January 17, 2010 @12:49:25 PM
*** I really love the tone of a whyte laydie. I can't wait to get mine from Wyatt Fawley !!! Nice pickin' Dean.

Don Borchelt Says:
Saturday, January 30, 2010 @6:00:10 AM
Dang, where do you get these neat tunes? Okay, Flattop Mountain, Blaine Smith, well that explains it, don't it. That B part has that ambiguous note coming off the fiddle, it almost sounds like you're still debating with yourself where to go with it. That's what makes these tunes so different, and interesting. Another fine Dogtrotter performance.

strokestyle Says:
Sunday, January 31, 2010 @2:45:34 PM
Very nice Dean and Gil!
You must sign into your myHangout account before you can post comments.