Posted by jfb
[download]
- Play count: 189
Size: 1,391kb, uploaded 1/3/2010 1:35:32 PM
Genre: Unknown/None Chosen / Playing Style: Unknown/None Chosen
Not up to speed, but I have very slow fingers..:)
---
6 comments on "Home Sweet Home"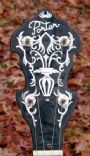 BPorter Says:
Sunday, January 3, 2010 @3:20:12 PM
John, Ron S been giving you lessons ole buddy? Sounds good!



jfb Says:
Sunday, January 3, 2010 @4:20:13 PM
Thanks Bill..
If I could pick 25% as good as Ron does, I'd be a happy guy..!

bhrb75 Says:
Thursday, January 7, 2010 @12:02:14 PM
Good pickin' man. Pullin' some good tone there.
See you this weekend.

jfb Says:
Friday, February 12, 2010 @6:32:03 AM
Thanks Brandon..

twa5 Says:
Wednesday, March 31, 2010 @8:48:40 PM
Good picking John. That old flathead sounds good.

jfb Says:
Wednesday, April 14, 2010 @4:54:33 PM
Thanks there Tim..the banjo sounds a lot better than I do..come on by when you get a chance..take care
You must sign into your myHangout account before you can post comments.