Posted by jfb
[download]
- Play count: 2858
Size: 9,290kb, uploaded 12/3/2009 3:30:19 AM
Genre: Bluegrass / Playing Style: Bluegrass (Scruggs)
I had the pleasure of getting to hear Ron pick on my old flathead. My first impression of Ron..very down to earth person, even humble regarding his picking ability..but he is right up there with Mr Earl, Sonny and JD in my opinion..a great picker who brings out the best in an old banjo..:)
---
8 comments on "Ron Stewart picking DA (5055)"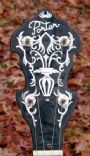 BPorter Says:
Friday, December 4, 2009 @8:57:34 AM
John, it doesn't get any better than that ole buddy!

I see why you traded those other fine flatheads...you have the "MacDaddy"!

later,

jfb Says:
Friday, December 4, 2009 @5:38:47 PM
Thanks for the nice words Bill (grins)..they mean a lot coming from someone who definately knows his banjos, as you do..Mr Ron can sure make an old flathead sound good can't he..man, what a picker he is!!
banjo1971 Says:
Monday, December 21, 2009 @1:26:06 AM
Wow! What a great clip of Ron on one heck of a banjo. This is quite a treasure.

jfb Says:
Saturday, December 26, 2009 @6:08:44 PM
Thanks Doug, I appreciate the kind words..

plunka5 Says:
Tuesday, January 12, 2010 @6:32:11 PM
John, what can be said about your very fine style 75...It is one of the most incredible banjos that I've heard recordings of on this website. It leaves me both speechless and always wanting to hear more at the same time. Thanks as always for your sharing of the joyful and uplifting music that comes from that banjo!

jfb Says:
Tuesday, January 12, 2010 @7:30:52 PM
Thanks Michael..we still need to get together sometime, so you can hear it in person..take care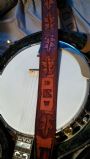 Eastbanjo Says:
Saturday, March 13, 2010 @10:59:28 AM
Thats it!! THE TONE!!!!!!!!!

jfb Says:
Monday, March 15, 2010 @7:16:10 PM
Thanks Derek..:)
You must sign into your myHangout account before you can post comments.