Posted by Dick Parker, written by Hamm, Bennett, Lown, Gray; Yellen & Cobb, 1915; Gilbert, 1921; Muir, Gilbert
[download]
- Play count: 3407
Size: 5,046kb, uploaded 11/29/2009 10:18:40 AM
Genre: Jazz / Playing Style: 4-String (Tenor/Plectrum)
The Fern Dale Memorial Banjo Band -- on this occasion, eight plectrums and a tenor, plus trombone, bass, drums and two washboards -- at the Mouldy Figs' 30th anniversary bash in suburban Minneapolis, Minn., on Feb. 9, 2003. I arranged it, so to speak, and lead off with a bit of "Rhapsody in Blue" on my 1926 B&D Silver Bell #1 plectrum, then we carve up "Bye Bye Blues," "Alabama Jubilee,""Down Yonder" and "Waiting for the Robert E. Lee." There's a picture of the band in my album here.
---

mainejohn Says:
Sunday, November 29, 2009 @12:50:54 PM
Boy...does that ever bring back memories of Your Father's Mustache. It gave me goosebumps. Thanks for sharing...great stuff!

Nelson Says:
Sunday, November 29, 2009 @2:16:38 PM
Absolutely fantabulous!!

banjoike Says:
Saturday, December 5, 2009 @1:48:35 PM
Makes me wanta dance!!!

Tuneager Says:
Wednesday, December 30, 2009 @6:48:10 AM
That's an incredible medley and playing!
Wish I would've been there!

T. G. M Says:
Monday, February 8, 2010 @10:56:28 AM
Great stuff !

mainejohn Says:
Wednesday, November 2, 2011 @8:14:11 AM
Sooooooooooo good! It really showcases plectrum chord-melody style and makes me wonder why this music just wouldn't catch on again like it did in the 60's rebirth.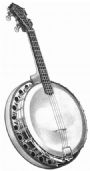 wuzapicker Says:
Monday, August 6, 2012 @9:06:47 AM
All Right!!! Good stuff - thanks for posting it.

Dick Parker Says:
Monday, August 6, 2012 @9:29:21 AM
Thanks, guys (blush)!
You must sign into your myHangout account before you can post comments.