Posted by townz
[download]
- Play count: 539
Size: 1,858kb, uploaded 10/25/2009 7:35:37 AM
Genre: Bluegrass / Playing Style: Bluegrass (Scruggs)
Seemed like time for a new benchmark after a little over two years, the timing is still a bit out but feel i am getting somewhere or what ,i ask my peers out there and hope joe gets to hear this.
---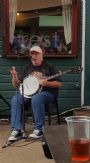 joemac Says:
Sunday, October 25, 2009 @2:05:13 PM
Wow, Mick, i know the work that goes into a new piece and i think you have exelled yourself since your last piece. Five stars for this buddy, keep working. If anything then i suggest you strenghten up your picking hand, but all in all very very well done..Joe

townz Says:
Monday, October 26, 2009 @9:45:06 AM
Thanks joe you are right need to forget the need for speed,quality not quantity appreciate the feedback!!
You must sign into your myHangout account before you can post comments.