Posted by Don Borchelt
[download]
- Play count: 2340
Size: 1,208kb, uploaded 9/26/2009 4:43:40 PM
Genre: Fiddle/Celtic/Irish / Playing Style: Clawhammer and Old-Time
My contribution to the BHO "tune of the week" for 9/26/09. This was recorded in 1998 by Wry Whiskey, a trio I was in then with Brian Clancey on guitar and Tom Speth on bass. The banjo is my semi-fretless Paramount, tuned to open D (aDF#AD).
---
4 comments on "Wind That Shakes the Barley with Wry Whiskey"

jimh269b Says:
Saturday, September 26, 2009 @5:03:15 PM
now don you out did your self but dang fine music you just cant beat that kind of playing and from a real pro in my book,and i have a real big book

clawhammertim Says:
Sunday, September 27, 2009 @11:24:13 AM
stunning!

MitchellB Says:
Tuesday, October 6, 2009 @5:04:57 AM
Nice!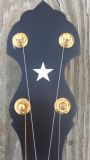 RWJonesy Says:
Saturday, April 10, 2010 @11:20:15 AM
*** Excellent picking Don!
You must sign into your myHangout account before you can post comments.