Posted by raisedhead
[download]
- Play count: 873
Size: 2,380kb, uploaded 9/22/2009 2:09:57 PM
Genre: Bluegrass / Playing Style: Bluegrass (Scruggs)
I've always loved the sound of the Foggy Mt. Banjo album. I thought it would be fun to try to get close to the sound of the recording. So I looked for the most live room I could find and it was.....the bathroom. I recorded this on a Macbook Pro using Garage Band fed by a Blue Snowball Mic. I played all the instruments, overdubbing. I hope you like it.
---
6 comments on "Home Sweet Home (Foggy Mt. Style)"

aletheia Says:
Monday, October 5, 2009 @5:25:08 AM
"Home Sweet Home" crept up on me just recently. I hadn't noticed it that much before last summer, when I heard Doug Dillard's version. Then I listened to the Foggy Mt Album all over again in a whole new light. I just started learning this song too. I am quite impressed with yours... Great job.

pick1936 Says:
Wednesday, November 4, 2009 @1:30:54 PM
Juat A Great Gob, If You Are not in a band You should be. THANKS MUCH.

Pick1936

Brian Murphy Says:
Wednesday, November 4, 2009 @10:08:01 PM
That's outstanding!

Dick Parker Says:
Wednesday, November 25, 2009 @4:04:21 PM
"If You Are not in a band You should be. "

He IS a band! What a great recording! Thanks!!

raisedhead Says:
Friday, January 22, 2010 @2:54:07 PM
Thank you everyone for listening to this recording and your kind comments.

Robert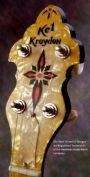 AmericanMadeBanjo Says:
Monday, February 8, 2010 @6:09:28 PM
Great idea with the bathroom.
You must sign into your myHangout account before you can post comments.