Posted by chip arnold
[download]
- Play count: 2701
Size: 1,807kb, uploaded 6/29/2009 5:32:22 PM
Genre: Unknown/None Chosen / Playing Style: Clawhammer and Old-Time
After hearing Don Borchelt's stellar playing on this tune I had to try it too. 2-finger style in D/D tuning on my OME Juggernaut
---
11 comments on "Ashoken Farewell"

mainejohn Says:
Tuesday, June 30, 2009 @12:50:38 PM
Fantastic. Did you figure that arrangement out by ear?

chip arnold Says:
Tuesday, June 30, 2009 @1:18:49 PM
Thanks John, Yup, I didn't want to be overly influenced (steal) by Don's version because it's his own so Tish hummed the tune for me and I chased it down from there. I had it cornered for a couple of days before I came up with an arrangement I liked.

mgoers Says:
Tuesday, June 30, 2009 @9:13:30 PM
Nice job, Chip! Always did like that tune.

lori nitzel Says:
Thursday, July 2, 2009 @12:57:53 PM
lovely! the slides caught me by surprise - very nice touch. :-) that OME is sounding great too!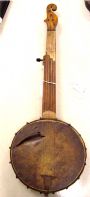 Kitt Says:
Friday, July 3, 2009 @6:50:37 AM
Chip,
That is one of those banjo performances that might well help to give some of those who have no love for banjo second thoughts about their dug in position. Superbly musical!

mgoers Says:
Friday, July 3, 2009 @8:41:16 PM
Chip: I had to fiddle this tune at our show this evening. One of our regulars requested it. Hadn't played it in quite a while. I did okay, but wish you had been there playing it with me. I do like the tune, but we got out of the habit of playing it regularly.

Don Borchelt Says:
Sunday, August 16, 2009 @4:05:09 AM
Excellent picking, Chip. Very sweetly done.

Boyd1 Says:
Sunday, December 6, 2009 @6:21:44 AM
Fragile and lovely.

dannnjo Says:
Thursday, July 28, 2011 @2:13:09 PM
so sweet and Bew Ti Full
fantastic job

countryman99 Says:
Friday, August 3, 2012 @5:11:55 AM
Thankyou Chip...That was areal pleasure to listen to. Im gradually working my way from your excellent tutorial demo of 2 finger index lead, through the following list of your music section, and its areal joy and inspiration. Im just starting to learn Chip, so thankyou again sincerely.
Mac.

JanetB Says:
Tuesday, December 3, 2019 @11:37:57 AM
So beautiful and touching a performance, Chip!
You must sign into your myHangout account before you can post comments.