Posted by Gary Blanchard
[download]
- Play count: 91
Size: 3,029kb, uploaded 6/21/2009 3:11:48 PM
Genre: Unknown/None Chosen / Playing Style: Other
AsI undertand it, these are the original words to the song Tom Dooley.It is written in the first person and lacks a chorus.I like this version a lot. Played in F with the long-neck capoed on the first fret.
---
4 comments on "Tom Dula's Lament"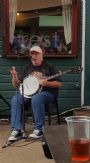 joemac Says:
Monday, June 22, 2009 @10:19:19 PM
brilliant, well performed and played.
UncleClawhammer Says:
Thursday, July 9, 2009 @11:29:36 AM
I've never heard this version before. Really good.

edavidt Says:
Saturday, November 28, 2009 @6:00:18 PM
Gary, This is the sweetest version I have heard. I can hear you, and I also can hear Pete Seeger in you. Thanks for posting this.

Where does this version come from - that is, how were you inspired to play this tune?

Gary Blanchard Says:
Sunday, November 29, 2009 @8:16:17 AM
I was inspired by the old Kingston Trio song; I heard this on the radio growing up and loved it. I often do research on songs to learn about their history and came across this earlier version of the song. I liked the different lyrical approach and the fact that this version predates the popular one. The only problem with performing it live is that the audience is waiting for the chorus that never comes.
You must sign into your myHangout account before you can post comments.