Posted by Flying Eagle
[download]
- Play count: 843
Size: 2,383kb, uploaded 6/20/2009 6:35:29 AM
Genre: Unknown/None Chosen / Playing Style: Bluegrass (Scruggs)
Tribute to one of the fallen greats, Jimmy Arnold. Look ma, no tab!
---

49ford Says:
Saturday, June 20, 2009 @6:56:51 AM
WOW , Great song and great pickin

Flying Eagle Says:
Saturday, June 20, 2009 @12:14:44 PM
Thanks, Jerry. Jimmy has always been a favorite of mine. I would encourage you to get some of his recordings if you can find them.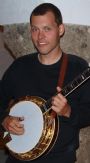 Violanjo Says:
Sunday, June 21, 2009 @3:14:18 PM
Yeah, thats some great pickin. Your banjo has a lot sustain. I like that.

John Kuhn Says:
Sunday, June 21, 2009 @9:50:12 PM
Yeah bay bay! That was too cool! Id been lookin for some ideas on this one as its gettin to be popular around here again. Lots to choose from!!! Thanks for posting.John

flange5st Says:
Monday, June 22, 2009 @4:33:49 AM
.good pickin' there Jim........I'd believe that Jimmy A. would be proud.....peace
Laurence Diehl Says:
Thursday, June 25, 2009 @2:24:27 PM
Yeah, you did a great job on what sounds like a very tough tune. Excellent playing!

Scooter Muse Says:
Friday, September 4, 2009 @5:16:55 AM
Very nice!
Jody Hughes Says:
Friday, July 22, 2011 @9:29:04 AM
I've never heard the Jimmy Arnold version. You throw in quite a bit of material that I heard Mike Snider play when I heard him do this...he must have got it from Jimmy? Great stuff.

Flying Eagle Says:
Sunday, July 24, 2011 @5:00:59 AM
Thanks, Jody. I was trying my best to cover JA's version of the song note for note. He wrote it, and it was one of the first really advanced things that Al Osteen ever taught me back in the day. I appreciate the kind words - that's high praise from a musician like you.

bhrb75 Says:
Sunday, July 24, 2011 @5:26:22 AM
That's some great pickin' there Jim. Enjoyed that a lot. You ever play "Hub's Rag"? I always liked Mike Auldridge's dobro break on that tune. I can't remember if it was on Strictly Arnold or Rainbow Ride.
You must sign into your myHangout account before you can post comments.