Posted by fbounds
[download]
- Play count: 836
Size: 2,617kb, uploaded 4/24/2009 11:11:03 AM
Genre: Unknown/None Chosen / Playing Style: Bluegrass (Scruggs)
I really like June Apple. It is a great tune. The audio was lifted from a video camera that was set up in the corner of a sunroom during a practice session. The audio quality is not the best but was a good jam. It captured all of my stumbles and missed licks quite well though. :) I was playing a 2008 Stelling Red Fox. Frank Bounds -- Banjo, Mark Jones -- Mandolin, Jason Bodenhamer - Guitar, Melanie Bodenhamer -- Bass
---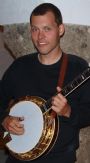 Violanjo Says:
Friday, April 24, 2009 @12:45:47 PM
I like your mellow banjo back up and all fancy those licks. Nice vocals, too.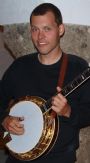 Violanjo Says:
Friday, April 24, 2009 @12:52:47 PM
Oops, I wanted to post the comment above on Little Whitewashed Chimney but your June Apple sounds good, too. I like those long chords in the back up and your clear pickin.
Laurence Diehl Says:
Friday, April 24, 2009 @1:21:25 PM
June Apple has always been a favorite. Nice solid, confident banjo playing and your banjo has a clear, strong tone. The whole band sounds good - you guys are lucky to have such a band!

Don Borchelt Says:
Saturday, May 9, 2009 @6:52:41 PM
Great picking on a great old tune. Fine job.
You must sign into your myHangout account before you can post comments.