Posted by Violanjo
[download]
- Play count: 1360
Size: 3,197kb, uploaded 4/21/2009 3:07:44 PM
Genre: Bluegrass / Playing Style: Bluegrass (Scruggs)
160 BPM! Well, it is breakdown time now! That is the fastest I can pick and bow right now without loosing (almost) control but only on breakdowns. I think I even could pick a tiny bit faster on banjo but on fiddle I have reached the limit. Adams County Breakdown has always been a favorite of mine. My interpretation consists of bluegrass picking and bowing styles but as usual I do some unusual things too. While searching for a suitable back up on fiddle I thought I give a try to some classical playing techniques. Furthermore the banjobreaks are picked in the key of A whereas the breaks on fiddle are played in the key of G. It is a small detail but I like this effect. I had to make a lot of takes and still it is not perfect. Oh by the way the strings are on my banjo for almost 8 months now. Do you think I should change?
---
14 comments on "Adams County Breakdown 160BPM (Fiddle and Banjo)"

brundecarli Says:
Tuesday, April 21, 2009 @3:52:02 PM
Perfect tempo and picking is fantastic Good Job. Bruno
Laurence Diehl Says:
Wednesday, April 22, 2009 @9:00:15 AM
Manuel - great job! Don't worry if it is not note perfect - we are pretty forgiving around here, my stuff has mistakes ALL over it! lol! So 160 is pretty fast, imagine how fast you could play with NEW strings!, like, without all that rust slowing you down!!!!

Blake507 Says:
Wednesday, April 22, 2009 @4:48:54 PM
Manuel, that sounds rather rapid. Are you sure that only 160 bpm, sounds more like 220 bpm.

John Kuhn Says:
Thursday, April 23, 2009 @7:36:19 PM
Good pickin my man! Yeah , now I DO like the fiddle back up in this.LOL.Good job! John

Don Borchelt Says:
Tuesday, May 5, 2009 @4:19:37 AM
Smooth picking, fine clean roll. You're way beyond my limit! Great job.

Ize_B_Pickin Says:
Tuesday, May 5, 2009 @7:22:52 PM
BRAVO!!!!!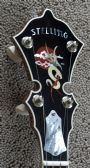 Patrick P. Says:
Wednesday, May 6, 2009 @9:54:13 AM
Great picking, not easy to play fast and clean !

Greg Connor Says:
Wednesday, June 3, 2009 @12:01:11 PM
Holy Cow!
What a treat to listen to!

g3zdm Says:
Wednesday, June 3, 2009 @1:39:46 PM
Wow! Nice arrangement and still clean at that speed (which I checked against my metronome).

Shilohbanjoman Says:
Wednesday, June 10, 2009 @11:05:42 AM
Fine work on the banjo and Violin!

clawhammermike Says:
Wednesday, September 2, 2009 @1:04:46 AM
holy toledo. I have been sleeping on your stuff.

Nelson Says:
Thursday, October 29, 2009 @12:13:17 PM
Super job!

pawoodwkr Says:
Friday, February 1, 2013 @4:58:38 PM
Only been at it 10 years, and you have mastered them both!
I am awestruck!
Sehr gut!

You must sign into your myHangout account before you can post comments.