Posted by Paula_DHJ
[download]
- Play count: 560
Size: 4,530kb, uploaded 4/17/2009 2:34:28 PM
Genre: Unknown/None Chosen / Playing Style: Clawhammer and Old-Time
I REALLY can't sing and I shouldn't try but I did anyway. My first attempt at trying to sing while playing. Based on Mike Iverson's tab. Written by Gordon Lightfoot.
---
6 comments on "Wreck of the Edmund Fitzgerald w/vocals"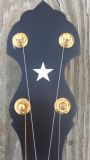 RWJonesy Says:
Friday, April 17, 2009 @11:07:00 PM
*** This isn't the work of a novice. Super Nice Job !!!

Ridge Says:
Tuesday, April 28, 2009 @12:31:38 PM
Great version of a great tune - keep up the good work!

Big Doug Nez Says:
Friday, July 17, 2009 @6:08:13 AM
Sounds kind of like Bob Dylan singing. I wish I could not sing as good as you.

deweyb Says:
Saturday, October 17, 2009 @6:06:38 PM
wonderful job !

Paul R Says:
Sunday, August 21, 2011 @6:22:50 PM
Good stuff Darren! I got a bit of a shock - I thought it was Colin Linden singing!

Grumpy1 Says:
Wednesday, April 11, 2012 @11:13:16 PM
That is nice. Sounded fairly professional to me also.
You must sign into your myHangout account before you can post comments.