Posted by Gareth Banjoland
[download]
- Play count: 802
Size: 2,074kb, uploaded 4/6/2009 8:08:59 PM
Genre: Unknown/None Chosen / Playing Style: Bluegrass (Scruggs)
Here is a version of one of my favourite fiddle tunes that I recorded on my laptop a while ago. Its the Stelling Virginian on all tracks. And a wee bit of fiddle at the start. Enjoy. All comments welcome.
---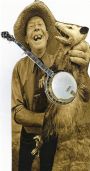 My Golden Says:
Monday, April 6, 2009 @11:42:41 PM
Gareth, that is some great pickin! I like your rhythm....got me dancin! Keep up the posts!

burlap Says:
Monday, April 13, 2009 @5:14:16 PM
I really enjoyed that....and I'll bet you had a bunch of fun playing it!

Don Borchelt Says:
Thursday, April 23, 2009 @4:13:05 AM
Very nice. The finely-wrought tone here reminds me very much of Snuffy Jenkins, with some new notes Snuffy didn't know about! I love the double stops, don't know exactly how you did them. Very enjoyable.
You must sign into your myHangout account before you can post comments.