Posted by udderyanker
[download]
- Play count: 579
Size: 3,286kb, uploaded 4/1/2009 9:27:12 PM
Genre: Unknown/None Chosen / Playing Style: Bluegrass (Scruggs)
Laura and I messin' around in the living room with a couple friends on a weekend. I apologize for the poor sound quality...it was a built-in computer microphone.
---
4 comments on "Lonesome Fiddle Blues"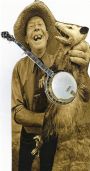 My Golden Says:
Wednesday, April 1, 2009 @10:04:09 PM
Great pickin! I love the fiddlin! Post more!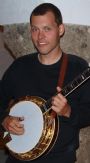 Violanjo Says:
Thursday, April 2, 2009 @2:41:43 AM
The sound quality is not bad. Nice fiddlin and pickin.

Gareth Banjoland Says:
Tuesday, April 7, 2009 @5:27:48 AM
Hey great stuff! snazzy fiddling and pretty picking.

Don Borchelt Says:
Sunday, April 19, 2009 @5:59:42 PM
Great fiddling and great banjo. Great job.
You must sign into your myHangout account before you can post comments.