Posted by f#dead
[download]
- Play count: 595
Size: 2,208kb, uploaded 3/29/2009 6:18:40 PM
Genre: Traditional / Playing Style: Clawhammer and Old-Time
I haven't heard this played. I hope I'm on the right track at least. This was on my Gold Tone White Ladye. aEADE, that's Drop C capoed at #2. Recorded w/ a Snowball Blue mic in to Audacity.
---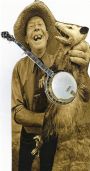 My Golden Says:
Sunday, March 29, 2009 @9:56:03 PM
I don't know this tune, but interesting Russian like feel to it. Well done on the rhythm!

FiddlerFaddler Says:
Wednesday, April 1, 2009 @6:41:13 PM
I agree that it has a certain Baltic je non se qua. The minor key contributes greatly to that. Thanks for posting t his.

Paul Roberts Says:
Wednesday, August 26, 2009 @9:49:49 AM
Greg,
Nice rendition! I've never heard this tune played on the banjo. I've always played it on guitar. It's in the Fireside Book of Folk Songs, a book my family sang out of when I was growing up. My father, who emigrated to the US was he was a child, plays it on mandolin.
Regards,
PauL
You must sign into your myHangout account before you can post comments.