Posted by Pine Cone
[download]
- Play count: 503
Size: 676kb, uploaded 3/22/2009 10:54:49 PM
Genre: Old Time / Playing Style: Clawhammer and Old-Time
A simple version of a classic tune... on my Gold Tone CEB-5 cello banjo.
---
3 comments on "Arkasas Traveler on a cello banjo"

Don Borchelt Says:
Saturday, April 4, 2009 @4:27:56 AM
What a boomer! Nice throaty version of one of the three archetypal fiddle tunes (the other two being Turkey in the Straw and Sally Goodin). Get to work...

ElGringorio Says:
Saturday, April 4, 2009 @2:31:25 PM
Yessir, that is some nice sound you are getting out that cello banjo.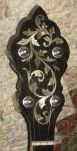 Pine Cone Says:
Saturday, April 4, 2009 @9:10:32 PM
I actually tried to record a version of Turkey in the Straw on the cello banjo but wasn't satisfied with the results. Had a bunch of technical difficulties from forgetting to turn the recorder on to dropping the recorded and bumping the batteries out before the song was saved. What I did manage to record was too sloppy so I need to try again after more practice.

Never learned Sally Goodin so I'll have to put that one on the "Tunes to learn" list
You must sign into your myHangout account before you can post comments.