Posted by GSCarson
[download]
- Play count: 792
Size: 1,977kb, uploaded 2/14/2009 7:20:57 AM
Genre: Unknown/None Chosen / Playing Style: Clawhammer and Old-Time
I recently changed my main 12" pot home built player banjo to Nylguts tuned an octave down. Great fun for A and D fiddle tunes in a jam. I'm still searching for the perfect strings for the 3 rd and 4th (I've got classical guitar strings on them now), and this is a quick sound sample. Listening to it, I see that I've zoned out to banjoland again and added extra measures to the third part at one point, oh well. I'd appreciate any tips from other who have tuned down like this for their favorite strings. Thanks.
---
10 comments on "Valley Forge - Low D Banjo"

pete hobbie Says:
Saturday, February 14, 2009 @11:37:18 AM
That is incredible,I dont know that tuning ,so nice and growly. Maybe if I see you at clifftop this year I can get you to show me it..

Pete

Loo P. Says:
Saturday, February 14, 2009 @12:56:04 PM
Fantastic!!!!! This is really good stuff!

Don Borchelt Says:
Saturday, February 21, 2009 @9:36:09 AM
Just plain great. I like the sound of it, smooth, masterful picking.

Bill Rogers Says:
Saturday, February 21, 2009 @6:32:32 PM
"That boy can play." And how. Awesome, Glenn; I sure enjoy your playing.
tridentum Says:
Friday, September 4, 2009 @9:05:47 PM
Very tasty version.

Mark Johnson Says:
Friday, April 23, 2010 @7:29:26 AM
wow. seriously, wow. that's wonderful.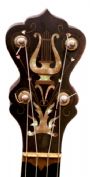 oldwoodchuckb Says:
Monday, March 21, 2011 @3:58:41 PM
Great Sound!

Yigal Zan Says:
Monday, March 21, 2011 @7:22:49 PM
For a while I kept one of my 12" pot banjos in similar settings - nylgut, octave lower then regular tunings. I gave up after we found that in jam sessions the banjo was "competing" with the guitar on the same octave. Low guitar notes would get mixed with notes produced by the low banjo and the two instruments were a bother to one another.

GSCarson Says:
Tuesday, March 22, 2011 @5:31:31 AM
I can see that Yigal, I've become more "sensitized" to when using that banjo is good, or not so. I pull it out when playing with good friends and we already have another banjo player tuned in standard A or D, mostly for cranked up high energy stuff. I try to play it hard when I do so it pops and sounds different than the guitar. For some tunes, it just comes across like a low rumble, and early on at a couple jams I had people with puzzled looks who couldn't figure out where the low notes were coming from because all they saw when they looked at me was some guy with a banjo.... Glenn

Yigal Zan Says:
Tuesday, March 22, 2011 @7:08:26 AM
Thinking of it again, actually my giving up was in response to only one twice-a-weak jam session in which there was/is a guitar player. I attend other jams that do not have guitar players. In the latter the "octave banjo" worked very well.
You must sign into your myHangout account before you can post comments.