Posted by snapjackson
[download]
- Play count: 292
Size: 3,285kb, uploaded 1/30/2009 9:48:03 PM
Genre: Unknown/None Chosen / Playing Style: Clawhammer and Old-Time
Mole In The Ground (Traditional w/ additional lyrics by The Afternaps) Aside from my big boy band, I also play in a kids band called The Afternaps. This is from our album. Feedback welcome. Enjoy! myspace.com/theafternaps
---
4 comments on "Wish I Wuzza (Mole In The Ground)"

chickenstalker Says:
Friday, January 30, 2009 @10:14:54 PM
one of my favorite songs to play. I love your spin on it, and the verses (you wrote?) that ive never heard. cool voice, cool groove, and cool recording. Great way to teach kids, and maybe im a kid at heart, but you rocked me too. peace.

Don Borchelt Says:
Sunday, February 1, 2009 @7:31:11 PM
Terrific performance. Almost makes me wish I was a eight year old again! Great clawhammering.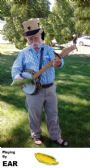 mike gregory Says:
Thursday, July 16, 2009 @6:50:25 PM
Just plain FUN!

Dock Jekel Says:
Tuesday, October 20, 2009 @6:55:30 PM
Great kids stuff!- Wiggles, get out of the way!
You must sign into your myHangout account before you can post comments.