Written/Posted by Laurence Diehl
[download]
- Play count: 3450
Size: 1,909kb, uploaded 1/25/2009 3:29:58 PM
Genre: Ragtime / Playing Style: Bluegrass (Scruggs)
© Laurence Diehl 2009
In Eb - hence the title. Sounds like something from the 1920's or before - just sort of wrote itself.
---
8 comments on "Three Flat Feat"

BrittDLD1 Says:
Sunday, January 25, 2009 @6:06:36 PM
Fooled me! I thought it WAS an "old standard" when I first heard it.
Just the type of thing Buddy Wachter might play. Enjoyed it!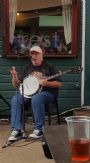 joemac Says:
Monday, January 26, 2009 @3:38:25 AM
five big ones laurence, cracking tune.
Laurence Diehl Says:
Tuesday, January 27, 2009 @8:08:21 AM
Thanks everyone!

Rick Woods Says:
Wednesday, January 28, 2009 @2:05:32 AM
Another SNAPPY tune by you. What a great sound and move this one has. You keep playing just like that because there are a lot of us that need inspiration like you. THANK YOU!
Greg Connor Says:
Thursday, February 5, 2009 @11:16:35 AM
You seem to pull music out of your banjo that I never even knew was in there! This is a real work of art.

Tuneager Says:
Thursday, October 14, 2010 @8:34:20 PM
Very cool original, but what the hell are you doing playing in Eb? You're a heretic aren't you?
I dig your playing style, not limited to one way............

maddogonbanjo Says:
Wednesday, February 16, 2011 @7:25:22 PM
Very nice snappy little show tune, I learnt this and played it at our band practice, they liked it but didn't want to follow me in Eb. I might use at as a set come back before the other guys pick up to play.
Laurence Diehl Says:
Thursday, February 17, 2011 @8:35:37 AM
Tom, I'm flattered! So you couldn't make them go for Eb huh? Downer! It sounds rather exotic, but that key works on banjo pretty well (but let's just keep that a secret among us banjo players) haha
You must sign into your myHangout account before you can post comments.