Posted by fxstb
[download]
- Play count: 425
Size: 1,995kb, uploaded 1/12/2009 3:44:08 PM
Genre: Unknown/None Chosen / Playing Style: Unknown/None Chosen
Ok here's an incredible sounding orginal flathead RB-12 owned by Mike Johnson. Jason Skinner thought this banjo is as close in sound to Don Reno's as he's heard. Unfortunately I'm playing it and not him!! Recorded using twin AKG-4033's into a Zoom H4 at 256 KBMP3. Flat eq, quite accurate.
---

Jason Skinner Says:
Friday, January 16, 2009 @7:35:12 PM
The best banjo of them all!!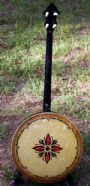 banjoplyr. Says:
Sunday, January 18, 2009 @10:11:47 AM
This banjo has the best tone of all the sound clips that i have heard.i did like Evans RB 75....Well I liked them all but those two were my favorite.Thanks for posting the sound clips.

fxstb Says:
Sunday, January 18, 2009 @10:22:27 AM
Nice to hear the positive comments Roger! Ya know my only reason for posting these is to share the experience with other that have a common passion for these old Gibsons. There's nothing perfect about these sound clips, just a glimpse, however they are a good representation, and I've posted them for enlightment only..and yes Mike's banjo is mystical! Will go back to "lurking" until Banjthon 2010!
Thanks Roger
You must sign into your myHangout account before you can post comments.