Posted by Banjowen
[download]
- Play count: 786
Size: 4,594kb, uploaded 1/4/2009 9:21:52 AM
Genre: Unknown/None Chosen / Playing Style: Other
A tune originally written for guitar by Mark Houghton from Chester, England. I think it fits the banjo very well, and as usual my son Paul accompanies me on Bass and Keyboards.
---
12 comments on "A Dublin Lullaby"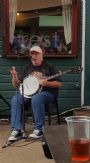 joemac Says:
Monday, January 5, 2009 @3:32:36 AM
lovely tune well played mate

kcjc69 Says:
Tuesday, January 6, 2009 @5:31:15 PM
Owen,
I have to agree that it fits the ol' jo perfectly! One of those tunes that I could listen to over and over, well until I drifted off to sleep.
Jim

Banjowen Says:
Wednesday, January 7, 2009 @12:59:41 AM
Thanks fellas I appreciate your kind comments.....

Jane C Says:
Wednesday, January 7, 2009 @3:04:51 AM
Well you know I love all your stuff, Jane

Banjowen Says:
Wednesday, January 7, 2009 @6:47:35 AM
Thanks Jane, thats a very nice compliment...
Greg Connor Says:
Monday, February 9, 2009 @8:38:59 AM
This is beautiful Owen! It has a great melancholy or reflective feel about it. What a treat to listen to.

Banjowen Says:
Saturday, August 22, 2009 @1:36:20 AM
Cheers Greg, thats a very nice comment.....thank you.

wmh Says:
Monday, December 13, 2010 @8:58:32 AM
Dear Owen,
Beautifully played - one of those tunes that just happens when you pick up a guitar one day - it only took an hour from conception to typesetting. I've also come across a couple of video perfrmances of the work in a published version I arranged for guitar quartet:-
americanguitarsociety.org/videos06.html
youtube.com/watch?v=Np3uuc4N5Vk
But I have to say that your banjo playing captures so much spirit and mood (as Greg says above). Well done buddy!

Mark

Banjowen Says:
Tuesday, December 14, 2010 @3:15:45 AM
Thank you ever so much Mark for the nice comment, it means a great deal to me, it's a wonderful tune.

wmh Says:
Wednesday, December 15, 2010 @2:15:40 AM
You're welcome Owen! Your recording makes me proud to have written it now!

Cheers, Mark

Miguel MC Dowell Says:
Sunday, July 31, 2011 @7:30:45 PM
Hello Banjowen,
I loved this song and the way you played it Thanks for sharing such a lovely tune. Is there any type tab for this song? If so I would love to learn it.
Thanks,
Miguel MC Dowell

JanetB Says:
Friday, September 9, 2011 @5:13:09 AM
Just starting to listen to your posts. This is lovely, but it's too early in the morning for a lullaby! (5:12 AM)

Janet from Smartsville, California USA
You must sign into your myHangout account before you can post comments.