Posted by arfive
[download]
- Play count: 282
Size: 4,067kb, uploaded 12/21/2008 9:04:43 PM
Genre: Unknown/None Chosen / Playing Style: Other
Here is my version of Crazy Arms. I'm playing everything except the drums. Sorry about the lead guitar being slightly out of tune.
---

Rick Woods Says:
Monday, December 22, 2008 @3:36:44 AM
Amy,
What a great job! Great vocals and great playing. I really liked the feel of the banjo break. Thank you for the bluesy swing feel you put into this grand old classic. 5 BIG STARS!

arfive Says:
Tuesday, December 23, 2008 @9:15:36 AM
Rick,
Thank you for your encouraging comment. I'm glad you enjoyed it!
Amy

Johnboy109 Says:
Wednesday, December 24, 2008 @5:00:36 AM
Love your voice.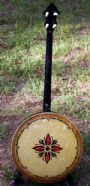 banjoplyr. Says:
Monday, December 29, 2008 @2:35:16 PM
Great song,loved it.nice back up and lead on banjo .great vocal,Ray Price couldn't have done it any better..

arfive Says:
Monday, December 29, 2008 @9:15:31 PM
Thank you very much!

BuffyMcGibbon Says:
Wednesday, January 6, 2010 @11:55:17 AM
Nice job Amy!
You must sign into your myHangout account before you can post comments.