Posted by Guy Donis
[download]
- Play count: 180
Size: 2,669kb, uploaded 11/29/2008 6:58:20 AM
Genre: Unknown/None Chosen / Playing Style: Unknown/None Chosen
Will be on my next solo C.D. to be released spring 2009
---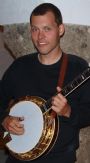 Violanjo Says:
Saturday, November 29, 2008 @10:26:36 AM
Yes, that is some very good picking and fiddling.I like the chromatics!
Laurence Diehl Says:
Monday, December 1, 2008 @8:27:00 AM
I loved it - great playing by all, very clean and original sounding tune!

Ricky-T-jo Says:
Sunday, February 8, 2009 @7:55:13 AM
Way to go player! : ) That nechville sounds at the edge! 5 stars. Just the drums are loud compared to the rest. Maybe raise the acoustic guitar or mandoline that backup for a fuller sound. Great job !

jimh269b Says:
Sunday, October 18, 2009 @1:16:57 PM
hey guy thats very very good job great

kirbonite Says:
Sunday, December 15, 2013 @8:14:22 AM
excellent!. Hearing this tune is one of the reasons I decided to get a Nechville
You must sign into your myHangout account before you can post comments.