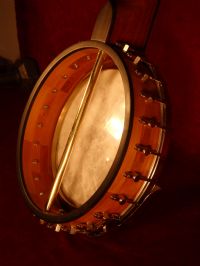 Luthier Since: 2008
Listing Created: 6/12/2012
Listing Updated: 3/5/2018
More About Me
I build 11" and 12" block rim claw hammer banjos from sustainably harvested tree farm grown Bolivian Rosewood using Gotoh tuners and a variety of tone rings including Bill Rickard's tuba phone and Dobson spun brass.
I also build 10" banjo ukuleles with integral tone rings and thin block rims.
Completing my build list are resonator parlor cutaway guitars with German silver bodies and book matched full length Bolivian Rosewood necks. and occasionally I build box dobros and 20 string resonator veenas.
I exhibited my instruments at the 2012 Montreal Guitar show.
As of November 2017 I am completing 55 banjos with a variety of hardwoods. Blockrims are made from Pacific Yew, American black walnut and Bolivian rosewood (Pau Ferro).
Necks are all two piece with 2-way adjustable rod with a center veneer white-red-white strip using Walnut, Padauk and Bolivian rosewood. Most of these banjos will be priced about US$2000.
Dobson tone rings will predominate but I have a few Tubaphone models and some with integral Cocobolo tone rings.