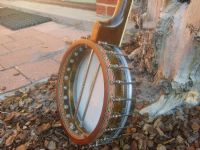 Luthier Since: 2007
Listing Created: 8/28/2012
Listing Updated: 3/31/2013
More About Me
folkinstruments.webs.com
We offer all services, parts, handmade banjos and custom work.
We have a small website which we invite people to join
And find people that may be in there area.
We also like to show the work we have done for you
And we love your feedback in our testimony section.
Profile pic. Is a custom rework project made for Tim Tanglefingers
From Queensland. One of my favourite requests from a customer.

Comments
Howdy Leon I am going to take a look at you website. Got the necks down. told you they weren't that hard. Gary Warren - walhooey
Hey Leon, was hoping to talk to you about a repair we once discussed on my maple neck to pot join. It's time. Ha! Can't keep it in tune good enough to record. I'm in peninsula tomorrow for work Tuesday march 17. Email me a phone number if we can hook something up
heath.brady10@gmail - hellvisbanjosaurus
Ok will do - 5strings3picks1banjo
You must sign into your myHangout account before you can post comments.