Current Pacific Time: 10:28:32 AM
From Past Students:
The workshop was great. The teacher presented the material articulately, well explained, and kept things flowing. I personally learned a great deal. Thanks for putting this on.
Read another...
Learn with top-notch teachers and fellow Hangout members using the Hangout Chatroom!

Got questions? Check out the Workshops FAQ Page.

Purchase copies of past workshops here.

You do not need a webcam, or even a microphone, to participate!
Upcoming Workshops: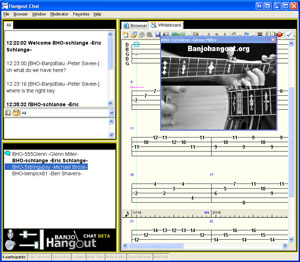 No workshop information is currently available.
Past Workshops
John Boulding - "Banjo for the Rank Beginner" - Oct 10, 2010
Randy Torno - "Intermediate Clawhammer" - Oct 13, 2010
Don Couchie - "Basic Clawhammer with Right Hand Technique Emphasis" - Oct 6, 2010
Dan Levenson - "Double and Drop Thumb from Scratch" - Oct 25, 2010
Pat Cloud - "Blues on the Banjo" - Oct 28, 2010
John Kuhn - "Anatomy of a Banjo Break" - Nov 8, 2010
Pete Wernick - "Best Ways to Start Playing Scruggs Style Banjo" - Nov 14, 2010
Bill Evans - "Backup Essentials and Sounding Great At Your Next Jam" - Nov 21, 2010
John Boulding - "Playing In Other Keys Without a Capo" - Jan 2
Bill Evans - "Analyzing Scruggs Solos" - Jan 9
Tom Nechville - "Dynamics of Banjo Sound" - Jan 15
Pat Cloud - "Simple Chord Soloing" - Jan 16
Ken Perlman - "Intro to Drop-Thumbing & Double Thumbing" - Jan 23
Pete Wernick - "Learning the Neck" - Feb 5
Bill Evans - "J.D. Crowe Style Banjo" - Feb 20
Pat Cloud - "The Key To Five String Banjo" - Feb 20
Fred Sokolow - "Fretboard Roadmaps for Banjo" - Mar 5
Ken Perlman - "Hammer-ons, Pull-offs and Off-String Pull-offs" - Mar 6
John Boulding - "Playing Vocal Tunes in Scruggs Style" - Mar 13
Bill Evans - "Up the Neck Scruggs Style Backup" - Mar 20
Bill Evans- "Intro to Melodic Style" - Apr 3
Pat Cloud - "Blues on the Banjo" - Apr 10
Fred Sokolow - "Bluegrass Jamming" - Apr 23
Ross Nickerson - "Playing By Ear and Breaking Away from Tablature" - May 1
Ken Perlman - "Drop-Thumbing to the Max: Strategies for Both Hands" - May 15
Bill Evans - "Intro to Single-String Style" - May 22
Fred Sokolow - "Alternate Tunings for Banjo" - May 28
Fred Sokolow - "How to Make Up Scruggs-Style Solos" - Aug 27
Bill Evans - "Bluegrass Banjo Basics" - Sept 25
Bill Evans - "Bluegrass Banjo Back Up Basics" - Sept 25
Gerald Jones - "Unlocking the Secret Powers of the Harmonized Scale" - Oct 9
Ken Perlman - "Getting Started at Clawhammer" - Oct 30
John Boulding - "Creative Backup From Bluegrass to Beyond" - Nov 6
Bill Evans - "Sounding Great At A Jam: Advanced Backup Strategies" - Nov 13
CANCELLED Dr. E. Michael Harrington - "Copyright Workshop" Nov 17
Pete Wernick - "Playing In a Group" - Nov 20
Bill Evans - "Upper Level Earl: Scruggs Techniques for Advanced Players" - Dec 4
Pat Cloud - "Rethinking the Right Hand: Finger Independence, Melody and Drive" - Dec 10
Ken Perlman - "Playing Up the Neck in Clawhammer: Concepts & Techniques" - Dec 11
Dan Levenson - "Clawhammer Strokes for All Folks" - Jan 4
John Boulding - "Bluegrass Banjo Set-Up" - Jan 8
Gerald Jones - "Jam Session Survival: Sounding Better Than You Are" - Jan 15
Ned Luberecki, Megan Lynch, and Stephen Mougin - "Jamming" - Jan 17
Pete Wernick - "Cool Stuff Up the Neck and Hot Rize Breaks & Backup" - Feb 12
Fred Sokolow - "How the Nashville Number System Can Help You" - Feb 18
Ross Nickerson - "Playing in the Keys of C, D, E, F and G Up the Neck" - Feb 20
Bill Evans - "Exploring the Fingerboard: Scruggs, Melodic and Single-string Styles" - Feb 26
Dan Levenson - "Tune Development - Clawhammer Style" - Mar 8
Bill Evans - "The Essential Earl Scruggs: Tunes and Techniques" - Mar 18
Pete Wernick - "Getting Unstuck" - Mar 25
John Boulding - "Reno Style" - April 15
Bob Carlin - "Right Hands Right, Left Hands Right" - May 1
Ross Nickerson - "Practice Habits and Techniques" - May 20