Posted by u k sandra on Wednesday, December 10, 2008
My last blog was about my birthday. What I did`nt know at the time was what my younger son and daughter-in-law had bought me. A hen house and run. I was thrilled to bits. For the first time since we were married, we had no animals. The last dog and cat both died this year. One at 14 and one at 15. We could never replace them and to be honest, we can`t be sure of out- living another one, so we decieded not to bother. However, I`ve always wanted hens and my husband has always said no, but even he couldn`t send a present back. So to cut a long story short, we now have seven hens, two hen houses and a big run and we love them to bits. Nobody told me hens could be so much fun. Now I can get back to my banjo. The only things I`ve been practising in the last two months are the tunes we were playing at The Sage. We had the end of term concert last Tuesday and had a great time. Its lovely to have John Henry Wright in the class. He`s good fun and his wife plays a mean guitar. I`ll get back to practising Cluck Old Hen.
---

TopCat Says:
Wednesday, December 10, 2008 @2:12:32 PM
Sorry to hear about your cat and dog, Sandra, but congratulations on the chickens. I'm sure they will bring you lots of pleasure (and scrumptious free range eggs).

randyblair Says:
Wednesday, December 10, 2008 @5:14:08 PM
Hey that's great...wish we could keep some chickens but I think the others in the apartment building would complain...LOL

muntjac Says:
Wednesday, December 10, 2008 @11:46:00 PM
Well theres no looking back now 'Hen'. Fresh eggs daily what more could you need? (except a cow or goat for the milk) mmmmmmmm a smallholding perhaps. Play some music and keep them happt!!

ratbagbanjo Says:
Thursday, December 11, 2008 @12:29:25 PM
Have you learned how to hypnotise them yet? Just put them on their back on your lap and they play dead! Great fun.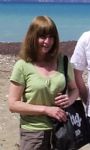 u k sandra Says:
Thursday, December 11, 2008 @3:03:22 PM
Thanks everybody, they are such good fun. I spent about an hour in the freezing cold this afternoon watching them having a whale of a time in the dustbath. They cheer me up no end. I havn`t learnt how to hypnotise them yet. Is it possable to hypnotise a Rhode Island Red into laying in her nestbox and not in the corner of the covered in part ,under a table where I have to get on my hands and knees ( and always kneel in some #### ) and stretch as far as I can, to get the egg, while she is laughing her socks off at me?.

randyblair Says:
Thursday, December 11, 2008 @5:32:14 PM
brawk cluck cluck brawgaaaawk...tanslation...hardeehar ha ha
Sounds like great fun, except for the ### bit

Oalbrets Says:
Sunday, June 7, 2009 @8:19:05 AM
Hey Sandra, you better get a Rooster to go with them hens or they will get mighty mad. Enjoy them.
You must sign into your myHangout account before you can post comments.