Posted by Kester on Saturday, December 6, 2008
Hello my friends,
This blog is entitled Joel Walker Sweeney who? The man of my downfall.
Joel Sweeney is, as you may know, the man credited with popularising and remodelling the banjo. He took the African akonting and replaced the gourd body with a drum head but there is little or no evidence that he added the fifth bass string . So, Joel Sweeney is not the creater of the banjo, but the populariser of the banjo with his Minstrel show.
The banjo has been providing a theme tune and chase music for all 'good' no-good scoundrells for over 150 years. Did Joel Sweeney have this in mind?
I would be really interested to know what you know about Joel Sweeney. I have investigated the internet and I have found lots of really interesting information but it is all quite generic. I am keen to learn a different perspective to the man. So, I have a question for you. Who was Joel Sweeney and in what kind of world did he live? If you have anything to add, no matter how small or insignificant you think it is, I would like to hear it!
Kester
P.s. since this blog was first written I have revised parts. The parts revised were those parts which had raised questions and doubts. I have also added interesting pictures in my default photograph album which you may like to see on this subject.
---
11 comments on "Kestergram number 8, Joel Walker Sweeney who? The man of my downfall."

Graypeddler Says:
Saturday, December 6, 2008 @7:28:49 PM
Have you read The Birth of The Banjo? I plan on ordering a copy from Amazon.com. It is about Sweeny and other early players of his times. I let you know if it is any good.

PruchaLegend Says:
Saturday, December 6, 2008 @9:42:07 PM
The Birth of the Banjo: Joel Walker Sweeney and Early Minstrelsy. Jefferson, NC: McFarland & Co., 2007.
Written by Bob Carlin. I have talked very briefly with Bob about Joel Sweeney's contributions to the banjo and got the impression that he thought Joel did nothing but popularize the instrument. He definitely did not give him credit for adding any strings to the banjo and said that Sweeney never claimed to have added any strings. As I say, these were my impressions. I may be wrong. You could try sending an email to Bob through his web site. Perhaps he would be willing to correspond with you.
Hope you find what you are looking for.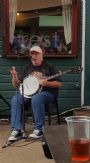 joemac Says:
Sunday, December 7, 2008 @1:35:24 AM
I also thought that He gained fame through playing alone but i may be wrong. i have never read anything about changing the format of the instrument......interesting.
banjo_nut Says:
Sunday, December 7, 2008 @6:41:35 AM
This is quite some interesting information Kester. Thanks for posting. I am indeed glad you are feeling better.

twayneking Says:
Sunday, December 7, 2008 @11:25:20 AM
"Might as well give a man a one way ticket to hell on the fast train as give 'im a 5 string banjo!" -- Great-Great Grandma McBride

BvilleDon Says:
Saturday, December 13, 2008 @4:59:17 AM
I only know of speculations. Someone on the net opined that Sweeny was responsible for adding the 4rth string, not the fifth, but I have no idea if he knew anymore about it than me. I do know his minstrel shows were well travelled and well known. I know in the early days of professional baseball, players ands coaches were often discriminated against because of their profession. Because of their profession, they were looked down upon. I wonder if it was the same on the minstril circuit. If so, it may be why we do not know more about him. I guess Sweeney might be to the 5 string like Abner Doubleday is to baseball--credited with something he really did not do. Great topic, Kester!

Kester Says:
Saturday, December 13, 2008 @1:44:25 PM
Thanks for the comment BvilleDon. I was of the opinion that he added the bass string not the chanterelle. It would be interesting to know how society regarded the minstrels?

Rizo Says:
Friday, December 19, 2008 @7:13:29 PM
Have you read America's Instrument by Philip Gura? I think it might answer some of your questions.

rperkins Says:
Thursday, January 1, 2009 @3:15:29 PM
Roy Clark said on one of his live bluegrass albums "the banjo is the only instrument invented in America, you're about to see why" and played an instrumental. The best I remember was "Foggy Mountain Breakdown".

hammeron Says:
Friday, January 9, 2009 @7:17:52 PM
Hey Kester, how the heck are ya? Long time no hear. Hope all is good with you these days. I've gone back to work recently so I don't get on here as much. Good thoughts to you my friend,

Steve

muntjac Says:
Monday, January 19, 2009 @11:16:49 AM
Hey Kester. I hear you have another hospital visit to attend. I hope all goes well my friend. ......... Ian
You must sign into your myHangout account before you can post comments.