My photo http://www.banjohangout.ws/users/photos/large/8805-42512117112007.jpg
shows bicycle spokes being used as tension hooks. It's an idea I got from Yoppari and Vintagewells.
Anyway, I put the extras SOMEWHERE, and have shuffled a lot of stuff around, into and out of storage, upstairs and down, while trying to sell the house.
Now, I am wanting to use them on a banjo I am building. But, to my horror, I cannot find them.
That's the horror, and, until I find them, my banjo project will remain unspoken.
---
7 comments on "UNSPOKEN HORROR!!"

roger martin Says:
Thursday, November 27, 2008 @8:02:49 PM
Hey Mike,
A few months ago I bought a new small sander.I hadnt used it for a couple of weeks due to my shop being unheated and the cold weather.Yesterday I built from junk parts a wood stove out of a 55 gal barrel.Today I fired it up and enjoyed an afternoon working on 2 banjo projects I've been trying to finish.I reached for my now fairly used sander and it wasnt there. I looked all over the shop and couldnt find it anywhere.
Finally I used my bigger sander to get most of the finish sanding done. When I reached over on the other workbench for another tool I had to reach over the sander I couldnt find a few minutes before,,,,,,It was right on the front of the workbench under my nose all the time,,,,,
Feel any better? lol

banjeaux bob Says:
Friday, November 28, 2008 @1:36:50 AM
Mike, I'm not surprised.

Bob

Banjo75 Says:
Friday, November 28, 2008 @8:28:38 AM
That doesn't look half bad. The drum circle gives it some character as well.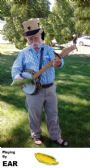 mike gregory Says:
Friday, November 28, 2008 @9:28:24 AM
Tahnks for the nice comments.
THAT banjo is done, sounds great, was delivered to Greg Hansen, age 8.
It's the NEXT banjo that I can't find the spokes for.

justwilliam50 Says:
Friday, November 28, 2008 @11:47:50 PM
Homer Simpson sums this up well,DDDOOOOHHHHHH

Mike Greylak Says:
Sunday, November 30, 2008 @1:48:32 PM
I can get you all the spokes you need Know a guy that owns a bike shop. truer words never SPOKEn

John Herrington Says:
Thursday, December 4, 2008 @9:57:10 AM
Heh, Mike,
I can't wait to see that next banjo. You'll find those spokes, I believe. Man, if I could find all the "lost items" around my shop and home, I'd have more work than I cn do.
Don't "forget" to post pictures of your new project, now!
Old John on the Big Horn
You must sign into your myHangout account before you can post comments.