Posted by Z Daniels on Thursday, November 27, 2008
I recently got a new Stelling Sunflower neck installed on a pot from a Red Fox with a resonator from a Bellflower. The neck has a radius finger board and I've been gigging on it for about a month now and I've noticed a jump in my learning curve concerning single string technique mainly up the neck. The curve of the radius feels more comfortable under the fingers, following the natural curve your fingers make from finger tip to finger tip when your hand is postured for playing. If you're into bop, or blues, or anything that requires single stringing up the neck like some bach or whatever- the radius finger board makes life a little easier. Things that weren't in reach are a little more "reachable". The change isn't drastic so the learning curve didn't exactly spike, but I noticed that I could play certain things a little cleaner. A little goes a long way up there.
On the flip side, the curve didn't mess with my Scruggs or melodic playing. They may have gotten a little better or no change at all, but I definitely didn't see any harm done. Nothing taken away there. When changing between say a melodic or a Scruggs run, and a single string run, the radius has helped make those transitions a little cleaner. Its hard to make that clean-period- but this helps you breath a little easier-the licks sound a little looser-the good kind of loose. Not so forced or sounding like I "barely got that one".
In closure-this is my personal experience with the radius finger board. It has helped a lot in an area where little improvements are hard to make. I recommend it to anyone. If you're interested in one, I know Geoff Stelling does just great work. Its just a really natural feel. Imagine running a mile in your average sneakers vs. running that mile in a nice new pair of running shoes with custom inserts. I hope that makes sense. Anyways, I've only played 20 or so gigs on it so my opinion may change but so far so good. I'll be writing a follow up in a month or so. Cheers
Zach Daniels
p.s. This is my first blog ever
---
2 comments on "Radius Finger Boards"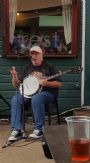 joemac Says:
Friday, November 28, 2008 @1:02:17 AM
Zack, just had a radius neck made for my Gibson, you can see it on my photo page, brought it home yesterday and within hours i was playing all over the thing, wish i'd done it years back, good luck, Joe

Guy Says:
Friday, November 28, 2008 @2:34:27 AM
Ask any Nechville owner, we love Tom's radius fingerboards. Tom Hanway's custom Stelling Swallowtail which he helped Geoff design, also has a radius neck, I've played it, it's a beauty. I'm certainly glad I found out about them before I went and bought a banjo.
Guy
You must sign into your myHangout account before you can post comments.