Winter is here in Northeast Indiana. Couple of weeks ago, we had Indiana summer with pleasant days in the 70s, pretty much mirroring the same temperatures as my former home in Birmingham, Ala.
But last Saturday, Nov. 8, winter came like a slap in the face. We even had a few flurries in the air here in Fort Wayne. This past week has been cold and wet.
I tried starting a fire back in the mancave, only to fill up the room up with smoke. I opened the flew to the chimney but still the smoke did not draw up the chimney the way it should have. Hmmm. Got to investigate that further.
When the snow comes and the days end early, I have a project in mind. I'm going to spend time sawing away on a fiddle. Mind you, I will always be a banjo player, and I have my doubts that I will have much luck with a fiddle, but I think I ought to give it a try.
If you notice in music postings (up to 30 now), I try to pair up as much as possible with fiddle players. I have been fortunate to have met and played with some good ones, which has only furthered my love for old-time music. Believe it or not, I listen to fiddle players more than banjo players, especially if I want to learn a melody.
So I think I am going to saw away on a fiddle at nights, but not neglect the stable of banjos in the room that will be saying to me, "Hey, don't forget us. We brought you to the dance."
No, I'll always be a banjo player. I'm just gonna have a fling with this fiddle and see where it takes me. Wish me luck.
---
4 comments on "A winter project takes form"

banjotef Says:
Sunday, November 16, 2008 @1:09:21 PM
Let us Hoosiers know how it come out. I think the fiddle would be the next thing for me to try!

pete hobbie Says:
Sunday, November 16, 2008 @5:58:19 PM
Could luck with that: every year when I leave Clifftop I say I'm gonna learn the fiddle..Me an the bow just don't seem to get along.

Pete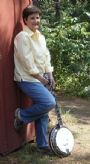 Banjosnob Says:
Monday, November 17, 2008 @4:41:50 AM
I'm jealous. The fiddle is very intriging to me.. I am a banjo player but would love to learn this too.
You inspire me.

FiddlerFaddler Says:
Monday, November 17, 2008 @3:15:55 PM
This is just a natural progression for someone as manic as you are about old-time music. You'll join the ranks of Brad Leftwich, Chirps Smith, Dan Gellert, Dan Levonson, and many others.

Before you know it, if you're like me (heaven help you!), you will want to own at least one fiddle for every conceivable cross tuning, including some tunings that you invent. Of course by now you should already own banjos of different sizes, with and without frets, perhaps for use with different tunings.
You must sign into your myHangout account before you can post comments.