I thought that by bending my tailpiece I had solved my problem concerning tailpiece tension on the strings. Not so. I don't know if the metal in the tailpiece is faulty or fatigued but it just bends itself right back under the pressure from the strings and it doesn't take long. I thought I was cracking (further) up yesterday. I finally measured it and yes, no matter how much bend, it pulls itself right back to where it was originally.
Time for a new tail piece. I haven't really liked the tailpiece since I got it. It's really the only part on the instrument that I feel is sort of sub-standard, not so much after what has happened, but it's just a little trickier to string up and go with than seems necessary in the 21st century.
Anyway, I can practice, barely, with the the thing cranked down on the tension hoop. It's history though. The only question is which tailpiece do I want to go with? I'm leaning towards the heavy duty and heavy duty priced
Fults
. I'm open to suggestions though.
UPDATE: It's the Fults Cumberland. I feel like any time I spend tinkering with my banjo is time I could have been picking it were it "up". I need to run into a buddy down here in meat space who is a hotshot banjo mechanic so I can contract him to do pretty much everything other than change the strings. Anyway, new tailpiece on the way. Stay tuned, and as alway, thanks for reading.
---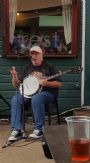 joemac Says:
Monday, November 10, 2008 @11:35:08 AM
Kershner is the way forward....good solid adjustable tailpiece that wont rattle and give years of service.

randyblair Says:
Monday, November 10, 2008 @1:06:26 PM
I had a fults 1934 parallel tailpiece on my Gibson RB100 and loved it...clear sound and strong design...have heard good things about the Kershner too...either way you go I am sure you will be pleased. Glad you got the tailpiece and head figured out...banjo...it's a learnin thang! Happy Pickin!
PaulKirby Says:
Tuesday, November 11, 2008 @9:50:27 AM
Hey! I've got a fults 34 on my RB-250 and I concur with Randy. Glad you got it figured out. Banjos are great things, aren't they?

DeanT Says:
Tuesday, November 11, 2008 @4:11:27 PM
The biggest mistake I ever made was selling my Sierra. The second biggest mistake I ever made was leaving the Fults Cumberland on it when I sold it! You're going to love that tailpiece! I'd love to have one for my Calico, but I've finially figures these darn Deering prestos out. Too bad yours didn't hold up to bending... dang... :(
You must sign into your myHangout account before you can post comments.