I'm not so certain that being a collector of anything, particularly banjos, is a smart move. I am still torn on this.
One part of me thinks that the accumulation of stuff is nothing more than falling prey to materialism. You know, the one with the most toys wins. And that kinda makes me feel uncomfortable..
I'm always telling my wife that we should not be comparing ourselves with the Jones, whoever they are, in terms of our house or the vehicles we drive. That we should live prudent lives, pay off our debts and save money. Heck, I'm about to turn 55.
But here I go, having bought two more banjos in the past month.. Proof again, do as I say and not as I do. What was I thinking?
Well, I know exactly what I was thinking. Dang, this is a cool banjo.
Three weeks ago, I bought a banjo made near my home in Fort Wayne. Mike Dawson lives near Grabill, Ind., right in the middle of Amish country, and builds some very nice banjos. He just finished one and was going to send it to Elderly Instruments to be sold, but I intercepted the pass so to speak.
Mike knows that I play down South a lot with friends in Alabama, Tennessee, and Georgia. He thought that me taking this banjo to old-time events in the South would serve as good advertising. And he is right, as I will be carrying the instrument to Breakin' Up Winter near Nashville in March. People will ask about this banjo.
I'll post some pictures but it has a blonde maple neck, made in the Dobson style, nice distinctive inlays on an interesting shaped peghead, and a 12-inch pot. No tone ring, but none is needed as it has a very nice old-time sound.
Acquiring the second banjo is a bit of a sadder story. The man who contacted me knew I collected banjos. He had been laid off from his factory job in January and now delivers pizzas to keep the lights on. I came to his house and discovered that he had a Cole eclipse banjo.
It needs some work, with some missing hardware and replacement of tuners, but I think I can turn it into a nice player in short order. I paid him what I considered a fair price, but not a price that would be charged by a music store that sells vintage instruments. He was happy and so was I.
I'll really be happy once I can start playing it with what appears to be its original skin head. And maybe that's why I collect banjos. I mean, they don't just sit there. I do pick them up and play them.
And when I play, I smile ... at least on the inside.
---
7 comments on "The Collection Grows"

FiddlerFaddler Says:
Friday, October 31, 2008 @11:40:38 AM
I really don't understand what could be troubling you. Everything you've done makes sense to me. Perhaps once the second banjo is in playable condition you could sell it to amortize the cost of your next banjo, or your renovated Cole Eclipse can be that banjo. Meanwhile you helped a fellow down on his luck.

The Dobson banjo is an open and shut case. The 12-inch pot settled the issue, not to mention how your circulating it down south constitutes thoughtful advertising support of its maker. You are evidently an altruistic gentleman.

banjotef Says:
Friday, October 31, 2008 @1:57:09 PM
Collecting fine things, such as good instruments, is also a way of preserving them for the future. And, they were meant to be played and bring enjoyment to others, not just sit on display. You are nobly doing your part. There's no inherent virtue in intentionally having more, or even less, than others.

pete hobbie Says:
Friday, October 31, 2008 @6:20:38 PM
I for one cant have to many banjos .Unfortunatly I make all my own so theres a built in buffer as to how fast I can get them.But seriusly maybe that fellas luck will change in the future and your just holding his banjo for him.kinda like "pass it forward".
pete

twayneking Says:
Friday, October 31, 2008 @9:39:48 PM
My wife says there are two kinds of people in the world. Adders and Subtractors. They respond to distress differently. Adders go out and get themselves a new toy. Subtractors order a dumpster and start flinging things out the door.

Be happy with who you are. If you're an Adder married to a subtractor, get a storage unit somewhere that she doesn't know about!
FretlessinTexas Says:
Sunday, November 2, 2008 @5:58:49 AM
Well, fellas, I appreciate the comments. Ya'll are making me feel less guilty about accumulating banjos. Now can you have a word with my wife? LOL.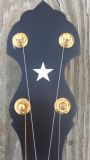 RWJonesy Says:
Friday, November 14, 2008 @6:23:42 PM
I'll help you with your guilty feelings and buy that Reiter from you......ha !
FretlessinTexas Says:
Friday, November 14, 2008 @7:38:55 PM
Jonesy, You know that Bart Reither I got is an early one, No. 240, made more than 20 years ago. And it's a plane Jane with no inlay and nothing fancy about it. But I think it's about the best sounding banjo I have.
You must sign into your myHangout account before you can post comments.