Posted by Stev187 on Wednesday, January 17, 2007
Flatpick & Clawhammer
Joel Mabus (1991)
I was working at Elderly Instruments in Lansing when Joel released the first half of this record, a wonderful collection of clawhammer banjo tunes. I'd see him walking in and out of the store giving lessons from time to time.
I'm delighted this has been re-issued on CD. I'm not going to review the guitar portion of the CD, which was originally released in 1993, but I'll just make one comment: this is how I play guitar in my wildest and most ambitious dreams.
Clawhammer is a superb record, and it's recorded beautifully. In the liner notes, Joel says he wanted it to sound like he was just playing tunes in his living room. The engineering is subtle, clean, and intimate.
I've always enjoyed Joel's playing on this record, and I literally wore out my casette copy back in the 90s. His playing style is so crisp and clean--he's a veteran musician with a direct link from his musical ideas to his instrument. Unlike some other banjo records, he plays with some tempo dynamics (can we call that rubato when we're talking about banjo? nah!). I love his singing, too.
There's a playful moment in "Groundhog," when he sings the verse "Meat'll do to eat'n / And the hide'll do to wear" several times and ends "I like to say that." What a kick!
Joel plays some really wonderful tunes on this record, the high points being "Briarpicker Brown/Spider Bit the Baby," "Over The Waterfall/Mississippi Sawyer," and "Maching Through Georgia/Abe's Retreat." I think his version of "Soldier's Joy" is perhaps the nicest I've ever heard.
Great record!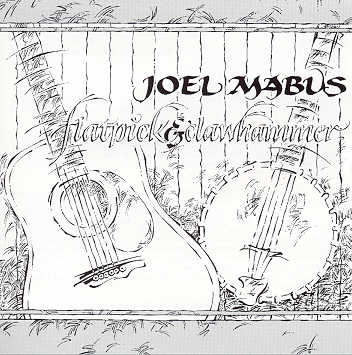 ---
1 comment on "CD Review: Flatpick & Clawhammer"

ScottK Says:
Friday, February 23, 2007 @5:13:57 PM
I'll second that last comment. Great record! My favorite cut is "Little Rabbit", but this CD is solid throughout. I wish more people knew about it. I think it would be as popular as Arnie Naiman's and Chris Coole's "5 Strings Attached" albums are at the moment. Cheers, Scott
You must sign into your myHangout account before you can post comments.